// SPRINT MASTER HSS JOBBER DRILLS
DIN 338 RN
Sprint Master - ø 5,9 mm tough precision jobber drill bit
Bulk:  Qty 1 drill bit

MASTER OF VERSATILITY
Expectations are high and innovation is an obligation at the very top. It is a claim we take very seriously.
The new ALPEN Sprint Master will show you new dimensions of speed and reliability. It reduces drilling time by around a third thanks to optimized drill geometry and the special ALPEN tip shape. And still delivers the customary top-quality result.
 Satisfaction is guaranteed further still by a longer service life that has been increased by a factor of 3 through the use of high-quality HSS steel and a special heat treatment process. The speed and long-term efficiency of a champion are words that best sum up our ALPEN Sprint Master.
Range of application:
HSS twist drill: toughness and precision combined with excellent cutting efficiency for drilling alloyed carbon and plain steel. Ideal for hand held operations.
Strengths
30% faster
3 times longer service life
Sharp cutting edges even with larger diameters little feed pressure is required
Very high elasticity and greatest toughness with optimum cutting performance
High fracture resistance even with smaller diameters low risk of breakage due to high elasticity
Optimum drilling performance even in unfavourable working conditions


Alpen drill bits are manufactured in Austria.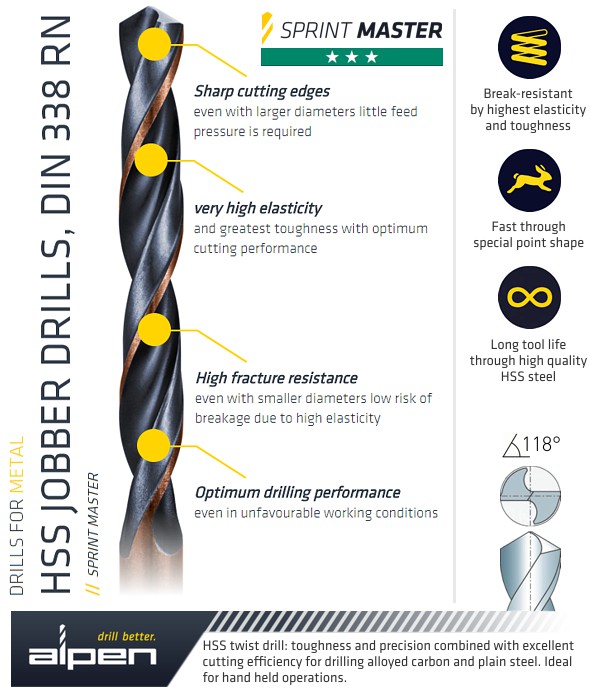 // SPRINT MASTER HSS JOBBER DRILLS
DIN 338 RN

Part No.
Diameter
Ø mm
Complete
length L1
Cutting
length L2
Grind
ALP6260059
5,9 mm
93 mm
57 mm
118°
Bulk: Qty 1 drill bit
Alpen Sprint Master drill bits