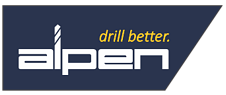 8 Piece Wood Drill Bit Set
A neatly packaged drill bit set in a plastic case. Manufactured in Austria. Alpen drill bits are known for their quality and performance. The sizes are from 3 mm up to 10 mm in 1 mm incremental steps.
The box contains
8 pieces Twist drill bits for wood:
3.0, 4.0, 5.0, 6.0, 7.0, 8.0, 9,0 and 10.0mm
Art.-Nr. 00 00600092100
Range of application:
For drilling in soft and hard wood, in chipboards,
fibreboards, for drilling dowel holes.
Strengths
SPOT PRECISION - thanks to centering tip
SHARP - thanks to precision-ground shape
Notice: FOR WOOD ONLY