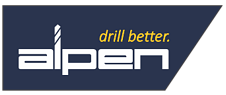 25 Piece Cobalt drill bit set
Alpen HSS-ECo Cobalt KM25 Jobber drill set in metal cassette 19 pcs. ø 1.0-13.0 mm. Drill bit size increments - 0,5mm.

Range of application:
5% cobalt-alloyed jobber drills with high heat-resistance for drilling steels with tensile strength over 800 N/mm², especially suitable for high alloyed steels, bearing-steels, hot/cold-rolled steel. Ideal for stainless steel.
For drilling into:
Structural steels < 400 N/mm²
Free cutting steels < 850 N/mm²
Unalloyed heat treatable steels < 1.100 N/mm²
Alloyed heat treatable steels < 1.300 N/mm²
Copper, brass, aluminium
Stainless steels
Grey cast iron, malleable cast iron
Plastics
Art-No. 00 001002251 00
Cooling recommendations for Cobalt drills
Material
Hardness
Coolant
Steel
< 400 N/mm2
Emulsion
Steel
< 850 N/mm2
Emulsion
Steel
< 1.100 N/mm2
Emulsion
Steel
< 1.300 N/mm2
Emulsion or Oil
Stainless Steel
 
Emulsion
Cast iron
 
Dry / Compressed Air / Emulsion
Titanium
 
Oil
Copper and Brass
 
Oil
Aluminium
 
Emulsion
Composites and Plastics
 
Emulsion / Water / Air
Sharpening angles and Point shapes
Drill bits are not all the same. Special materials and the different applications need different cutting angles and point shapes. Refer to the table below to learn more about point shapes and the lip angles.
 
 
 
 

Relieved cone,
118°

Split Point AC,
118°

Split Point C,
130°

Centering Point-Shape E, 180°

Universal point-shape for a lot of drilling applications in steel and iron, non ferritic-materials, plastics and other materials.
Point-shape with increased performance and very good centering. This point shape is being used for all industrial drill bits.
Special point-shape for stainless steels
and special materials.
Special point-shape for spot weld drills.
Strengths
HIGHLY ACCURATE
special shape, drills without center-punching
BREAK RESISTANT
thanks to CNC heat treatment
INDUSTRIAL QUALITY
suitable for NC machines
SELF-CENTERING
thanks to special point shape
TEMPERATURE RESISTANT
Up to 600° C drilling even with the highest thermal stress
FAST
due to special drill grinding fast drilling progress and up to 50% less feed pressure required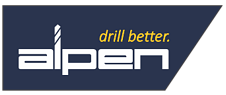 Specifications
Drill diameter
Qty
Sample
HSS-ECo Jobber drill DIN 338 RN
Ø 1,0 mm - 13 mm
1 ea Size
Increments
0,5 mm
Specification
DIN 338