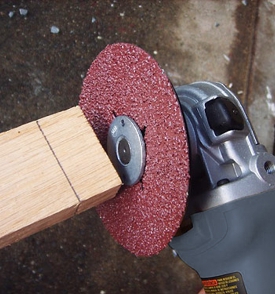 Fibre sanding discs to be used with an angle grinder.
SIZE: Ø180mm
GRIT: P100
Application
The Tork Craft fibre discs have a heavy duty fibre backing for durability, strength and tear resistance. The abrasives are made of aluminium oxide and is a great choice for wood, metal and masonry.

The fibre discs can be used to strip paint, finish welds on steel and shape wood.
Easy to use:
Unplug the power tool before attaching the sheet.
Align sanding disc on clean backup pad & press in place.
Tighten the flange nut.
Sand with light pressure.
For Ø180mm angle grinders, use backing pad SP11232
Always make use of the necessary safety equipment when using machinery or powertools!
What is grit?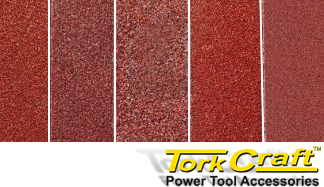 When talking about sandpaper 'grit' is a reference to the number of abrasive particles per inch of sandpaper. The lower the grit the rougher the sandpaper and conversely, the higher the grit number the smoother the sandpaper.

This make sense if you imagine how small the particles on an 1000-grit sandpaper would need to be to fit into a 1' square (25,4mm square). Sandpaper is referred to by the size of its grit (Example 120-grit sandpaper or P120 sandpaper).