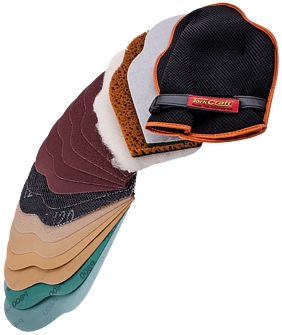 Sanding glove and17 PC kit for multiple use.
Application:
Hand sanding glove with hook and loop system to be used on:
Wall and plaster
Furniture
Stainless steel and metals
Wood
Automotive detailing
Features:
The fabric is breathable and washable.
The sanding glove completely covers your hand and protects it.
Very easy to use and change between the different sanding/polishing pads.
The kit consists of:
Silicon carbide sanding screens: P80, P120, P220 (one of each)
Aluminium oxide sand paper (red): (x2) P40, (x2) P80, (x1) P120
Aluminium oxide sand paper (gold/yellow): P180, P240, P320, P400 (one of each)
Non-woven pad (green): (x1) P240
Film disc: P600, P800 (one of each)
Lambs wool polishing pad: (x1)
Sponge: (x1)
Sanding glove: (x1)
Replacement sanding sheets:
ABR70015 - P60, P80, P120
ABR70016 - P60
ABR70017 - P80
ABR70018 - P120
ABR70019 - P240
ABR70021 - Lambs wool polishing pad

What is grit?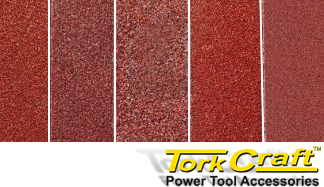 When talking about sandpaper 'grit' is a reference to the number of abrasive particles per inch of sandpaper. The lower the grit the rougher the sandpaper and conversely, the higher the grit number the smoother the sandpaper.

This make sense if you imagine how small the particles on an 1000-grit sandpaper would need to be to fit into a 1' square (25,4mm square). Sandpaper is referred to by the size of its grit (Example 120-grit sandpaper or P120 sandpaper).
Choice
You need to choose the grit size of sandpaper depending on the particular job you are trying to accomplish. For heavy sanding and stripping, you need coarse sandpaper measuring 40- to 60-grit; for smoothing surfaces and removing small imperfections, choose 80- to 120-grit sandpaper. For finishing surfaces smoothly, use a super fine sandpaper with 360- to 600-grit. Many jobs require you to "go through the grits." This means you start the project using lower-grade grit and use finer pieces of sandpaper as you progress. Each time you advance to a higher grit sandpaper, you remove the scratches from the previous layer.
The sanding glove and it's many uses